Our motor trade and taxi clients give time and money at Christmas
Traditionally Christmas is the season for feasting and spending quality time with loved ones, but not everyone is fortunate enough to have these luxuries.
At Plan Insurance we have pulled together some examples of the heart warming charity work going on over the festive season that both our motor trade insurance and taxi insurance policy holders will be involved with.

BEN – the Automotive Industry Charity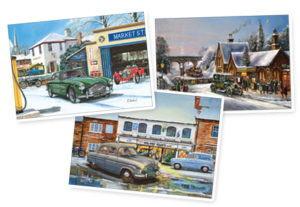 BEN is the UK's foremost charity caring for those who work or have worked in the motor trade industry by assisting with support and advice in hard times. Part of their outreach work includes running four UK based residential centres that offer the provision of nursing for the very sick with end of life care for the terminally ill.
Throughout the year BEN arranges events including their spectacular BEN Ball that raised over two hundred thousand pounds and the "Bangers for BEN" rally. With 90% of all proceeds going directly to the charitable cause of motor traders in need rather than getting lost in administrative red tape its easy to see why people give so generously.


Every December the charity creates Christmas cards with the intention of raising funds. This year they are celebrating 25 years of collaborating with illustrator Richard Wheatland and are producing a very exclusive Wheatland Anniversary Pack containing 10 of the most popular designs he has created.
If you know a car enthusiast they will love these cards and buying one will also help assist those that are less fortunate. The cards are available in packs of 10 or 12 and they are currently offering same day dispatch.
For full details on how you can buy your pack of Christmas cards please visit BEN.


The LTDF – for Underprivileged Children
The London Taxi Drivers' Fund for Underprivileged Children, has been established since 1928 and assists unfortunate children by creating a day of fun filled memories for them to savour.

They arrange annual trips to the children's favourite places and them to such destinations as seaside resorts, zoos and circuses in a convoy of black cabs. For any of our black cab insurance policy holders involved in taking children abroad on these trips we will arrange and supply free green cards to insure their taxi insurance cover is fully comprehensive whilst abroad.
They also hold monthly meetings with 13 working London taxi drivers attending to review appeals for financial help for 'special needs' children. These meetings often result in the provision of much needed medical, recreational and communicative equipment for the children as well as their parents.
On the 19th December the charity is celebrating 86 years of helping children in hardship by gathering together for some festive carols at The Burlington Arcade, London. You won't be able to miss the parade of taxis as they decorate their black cabs including one dressed up as a reindeer!

They will also be collecting donations for their forthcoming Mad Hatters Tea Party in January, which their annual party giving 650 'special needs' and underprivileged children a party they will always remember.
For full details of all this charities amazing work please go to The London Taxi Drivers Children's Charity

With the frantic pace of modern day life, in these tough economic times, where everyone is often rushing around with a focus on earning a living we think both the motor trade and taxi industries should be highly commended for finding the time to assist others less fortunate than themselves.